The Peralta Reflections Event was on Saturday, January 13, 2018; it was a great event. Many students and their families showed to receive their awards and hear who's pieces would be chosen to move forward to State. This year entries for the Peralta Reflection program came from; Alameda, Fremont, Pleasanton and Hayward. 25 pieces where selected from Peralta Reflections to be received by the State Reflections Program. Out of those 25 pieces, 15 of them came from Fremont. Listed below are the Award of Excellence recipients from FCPTA. Please congratulate these talented artists.
Dance Choreography
Primary -- Anish S., "With Knowledge Everything is within reach", Forest Park Elementary
High School -- Vivienne C., "Endurance", Irvington HS
Film Production
Primary -- Aarshya L., "Impossible Targets", Gomes Elementary
Intermediate -- Avani R., "I Want That Mango!", Warm Springs Elementary
Literature
Intermediate -- Catherine H., "Butterflies Flying", Ardenwood Elementary
Music Composition
Primary -- Aarush S., "The Pianist", James Leitch Elementary
Photography
Primary -- Lyla T., "Reach For the Stars ", Ardenwood Elementary
Middle School -- Veda J., "I", Parkmont
Visual Arts
Special Artist -- Sasha S., "Within Reach" Kennedy HS
Primary -- Cara W., "Protect Our Ocean", Gomes Elementary
Intermediate -- Cecilia C., "Whatever It Takes", Warwick Elementary
Middle School -- Elliot C., "Reaching to the Summit" Gomes Elementary
High School -- Joyce S., "Ruin", Irvington HS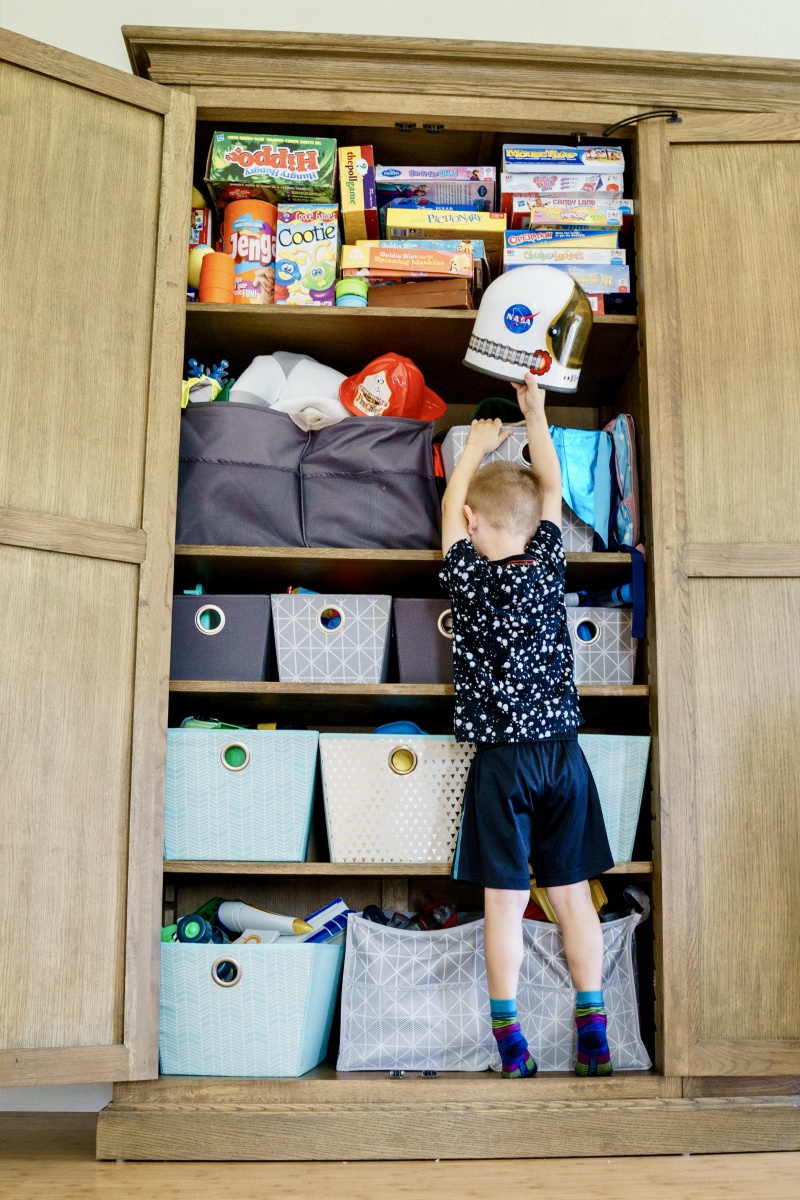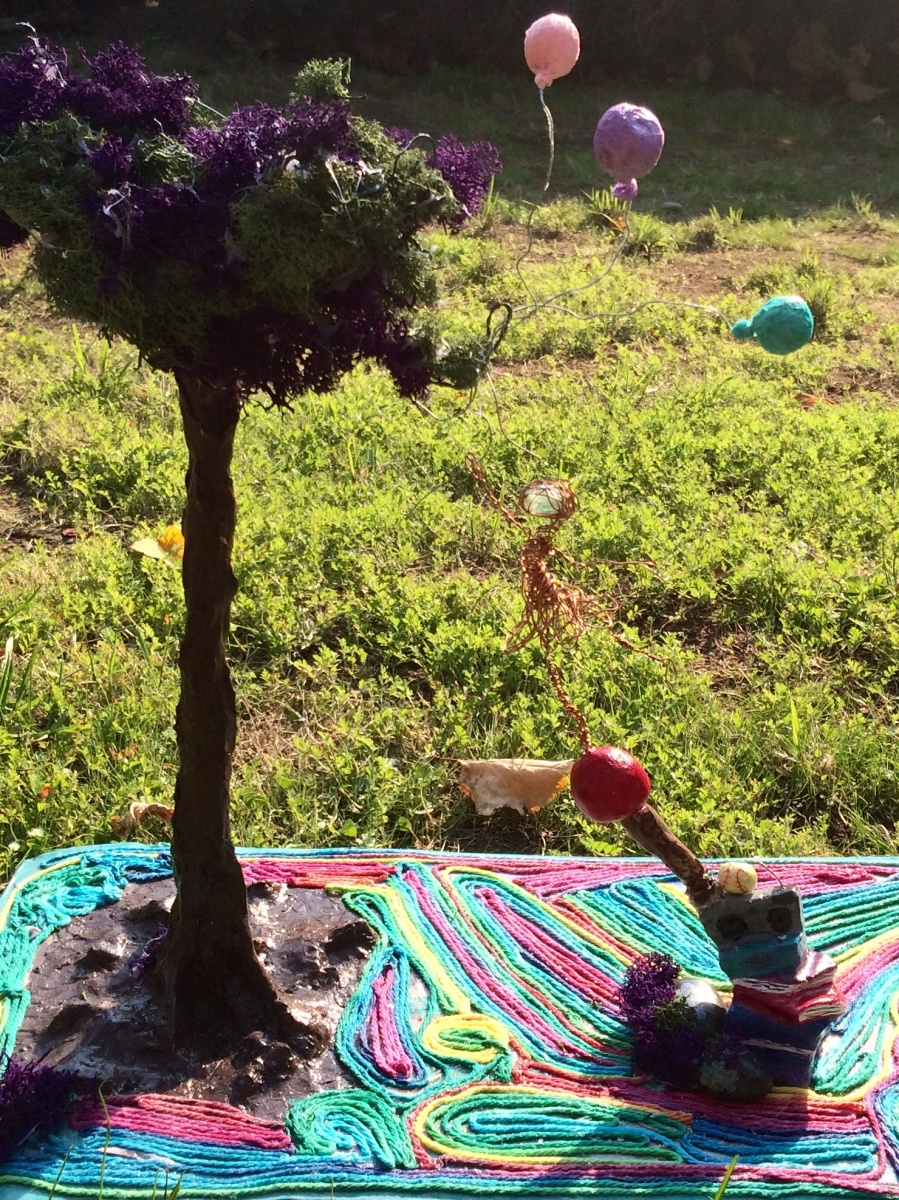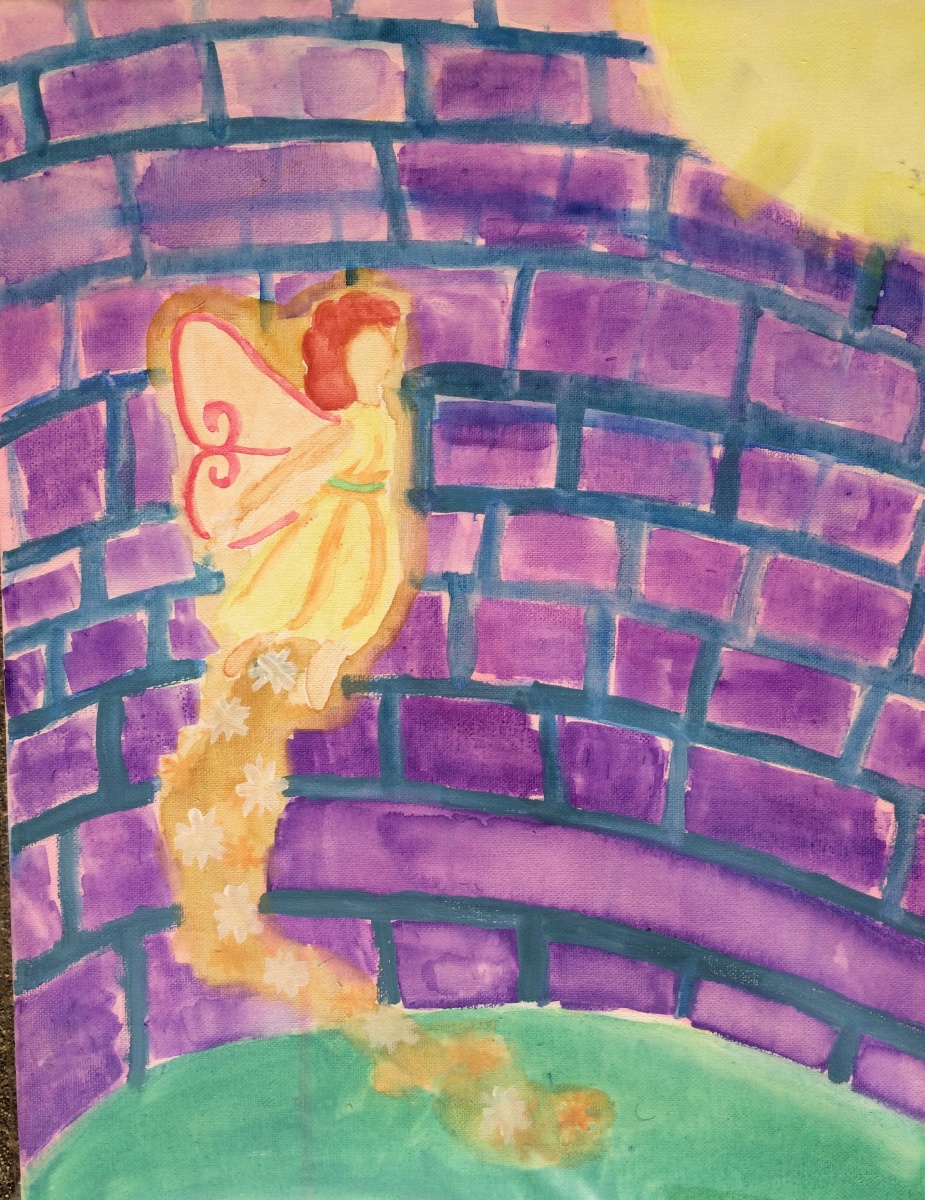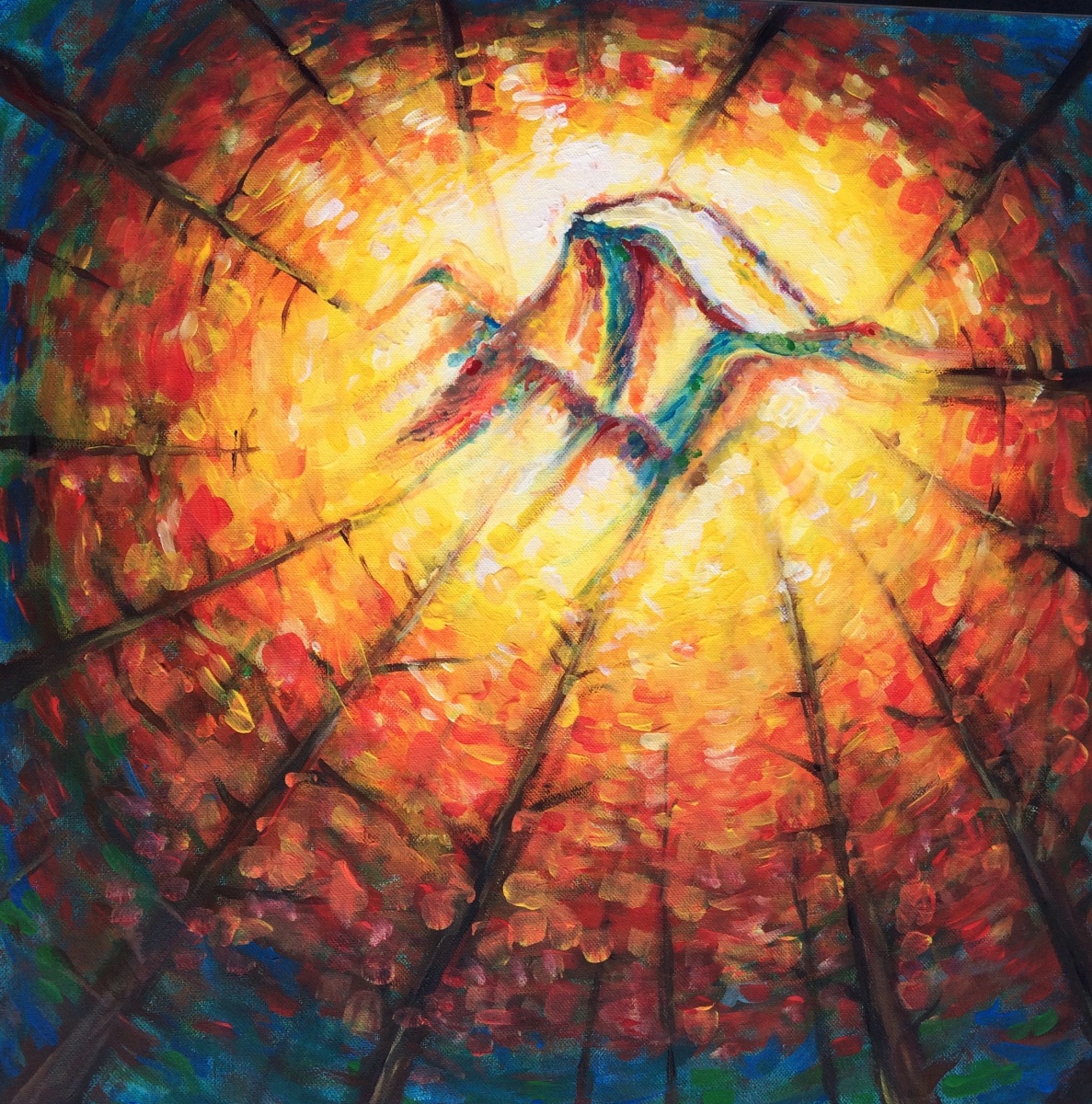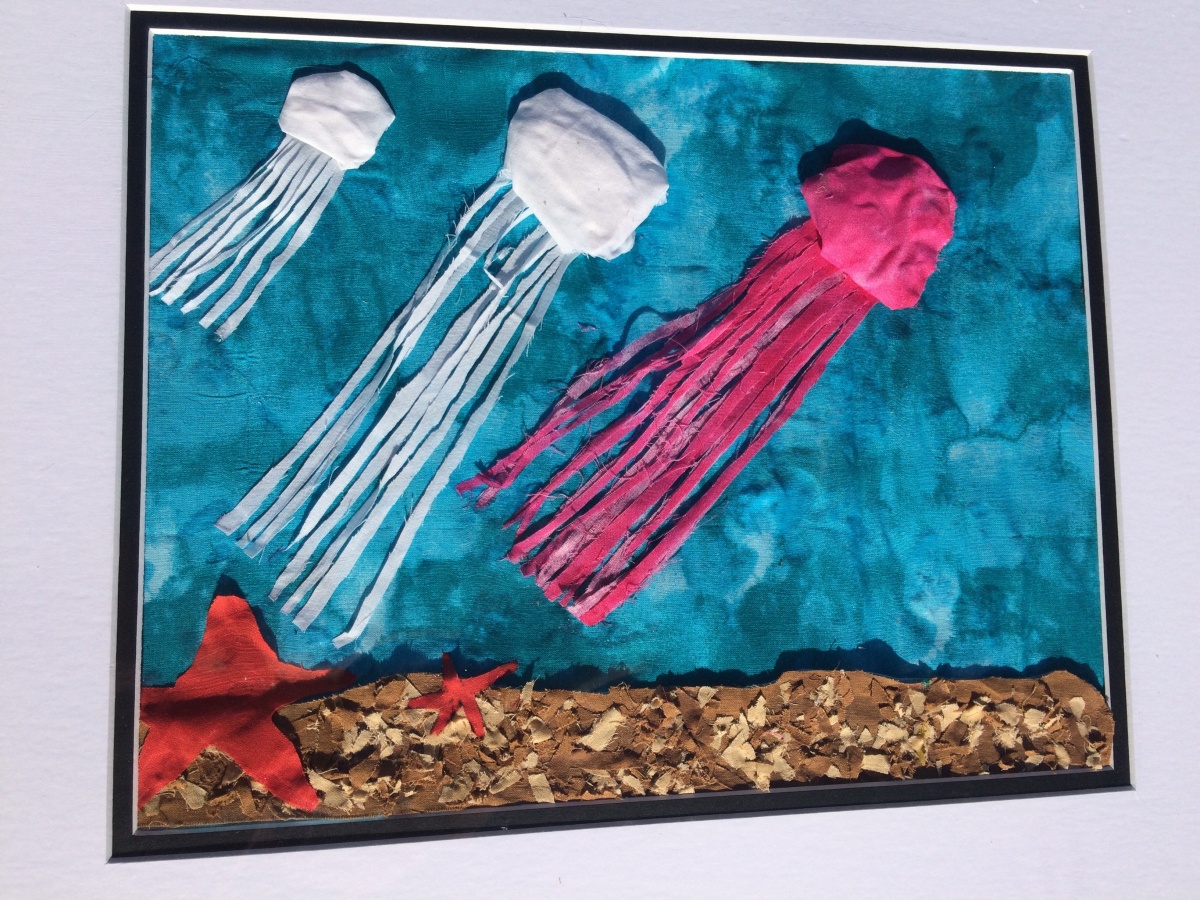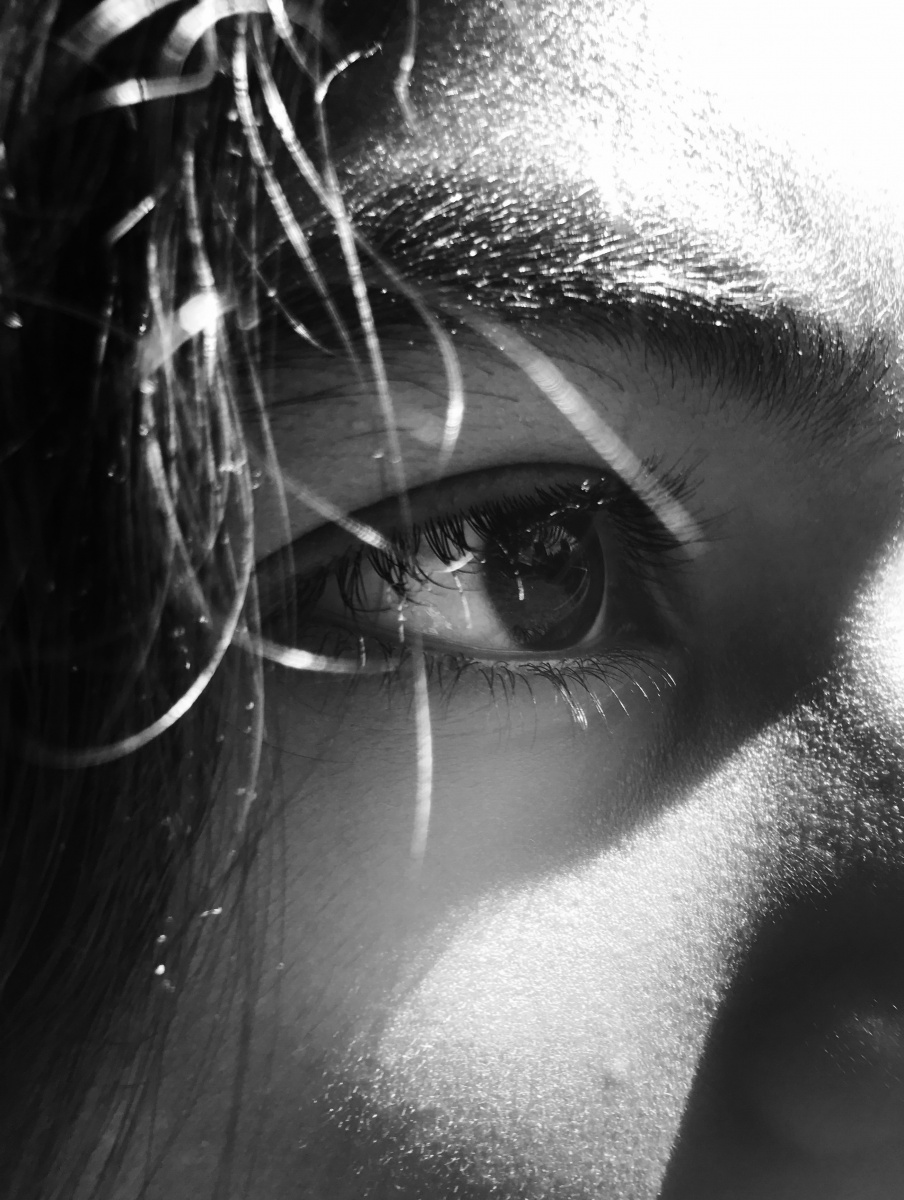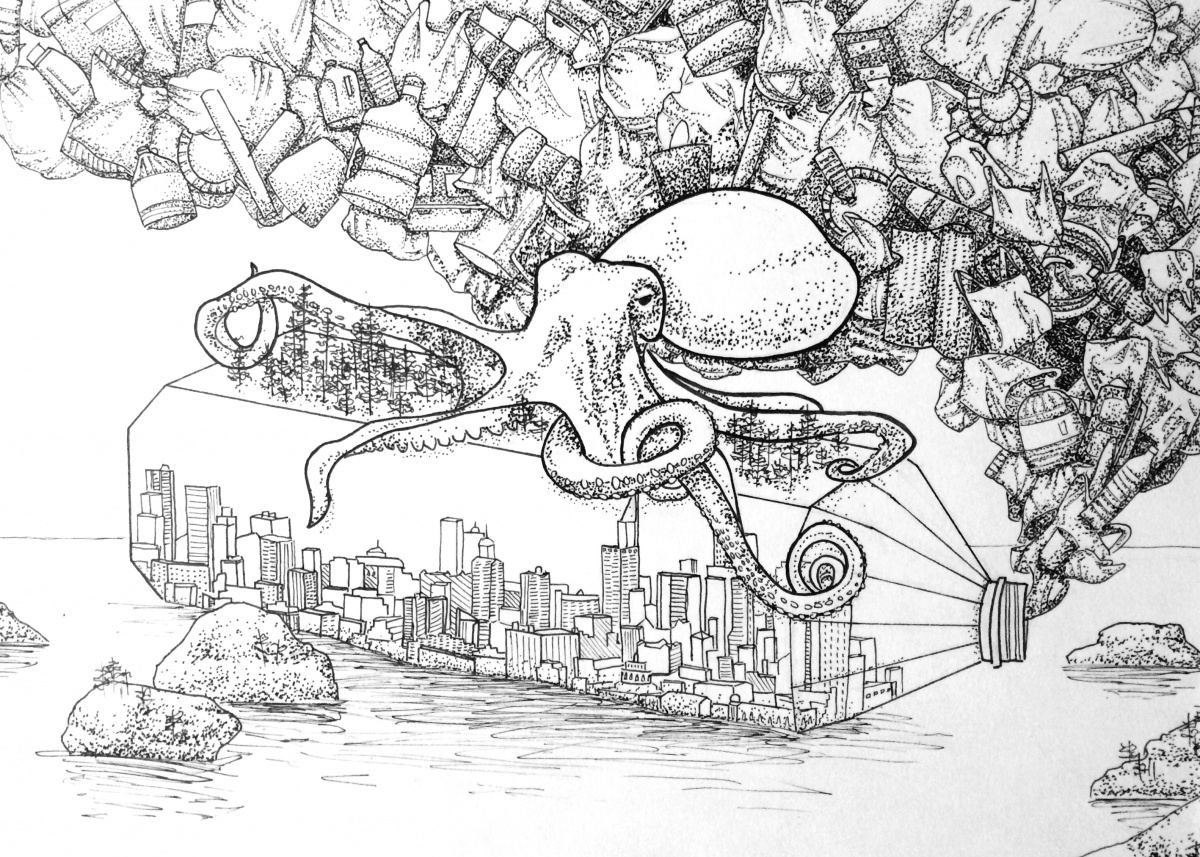 ---
2017 Reflections Results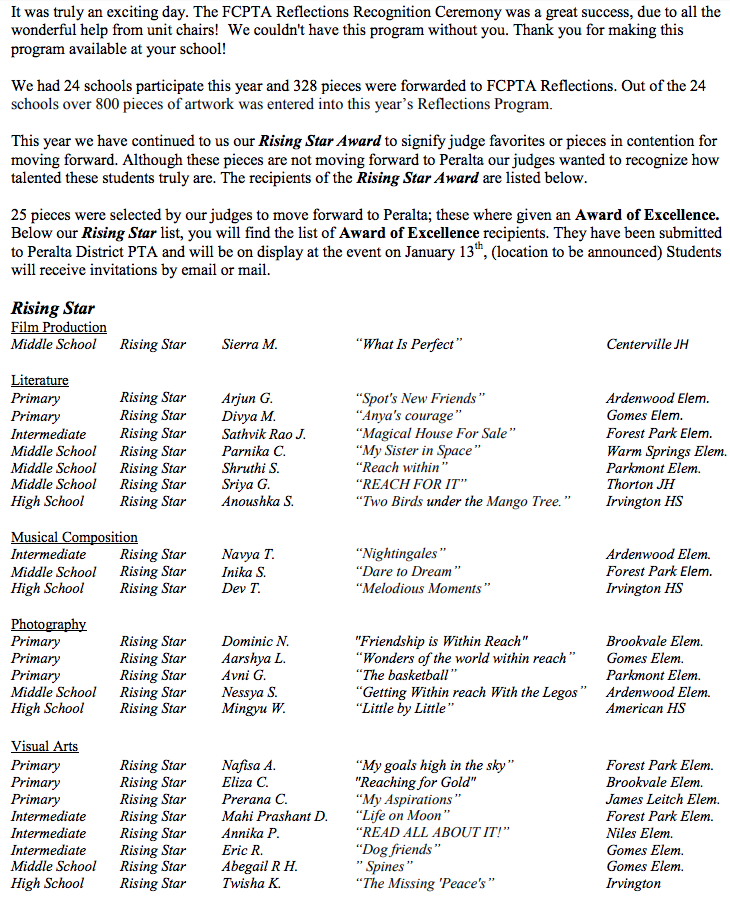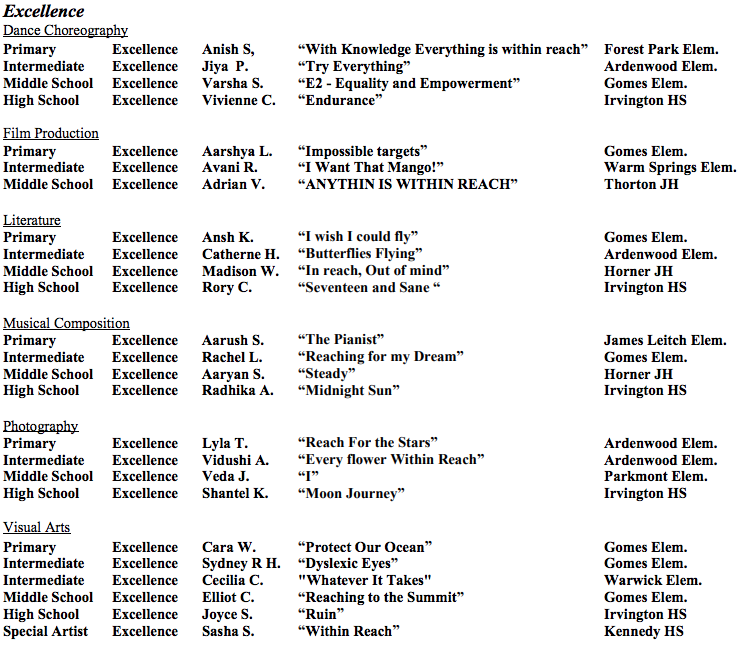 Hello,
I'm the FCPTA Reflections Chair. The best method to communicate with me is by email (reflections.fcpta [at] gmail.com).
I'm in the process of gathering contact information, for each unit. Please provide the following information for your Reflections Chair as soon as you have it (even if you have communicated this at the beginning of summer). If you don't have a chair yet I suggest you find one soon this program starts immediately, with two available training one on 8/28 and the other 9/9. Training is mandatory.
School Name:
Contact Name:
Contact Phone:
Contact Email:
Please indicate if they are new to Reflections program, or if they have some prior experience.
Below is a very brief overview of the program, with Council dates. Your unit will need to set dates accordingly to be appropriate for your campus (be aware of other event deadlines, athletic events, holidays and testing schedules). Allow time for promotion, submission, judging and an acknowledgment activity prior to Council events. Please do not bypass the units responsibility to judge and acknowledge all your participants. The Council event should not be the first acknowledgement to the student.
It is important to customize the information sent to your students to reflect your units deadlines.
Reflections Art Program

2017-2018 Theme:"Within Reach"

Training:

Offered by Peralta District - 

Aug. 28th

 
(7:30pm - 9pm Alameda County Office of Education 313 W. Winton Ave., Hayward, CA)
Offered by Fremont Council - 

Sept. 9th

 
(2-4pm Fremont Cultural Arts Council 3355 Country Drive, Fremont, CA)
Unit Chair Responsibility:
Become familiarized with materials
Publicize the Reflections Program on your campus
Be available to answer student questions
Follow guidelines
Make sure all entries meet judging criteria
Select impartial, Qualified judges
Provide acknowledgment to EVERY participant (either an event, or presentation of certificates, etc)
Submit all required forms and electronic lists requested by Council (template to be provided)
Submit selected artwork to Fremont Council (

Nov. 14th

)
Assist set up and clean up at Fremont Council Reflections Award Ceremony (

Dec. 9th

)
Publicize any wards given to local students at other levels of judging
Return all artwork to students 
FREMONT COUNCIL DEADLINES/DATES
Submission of student artwork to FCPTA: Tuesday, November 14th.
Notice: Only 3 pieces of artwork for each grade division and art category will be accepted.

(Example: Elementary has 3 grade divisions, so for Visual Art I will accept 3 from Primary, 3 from Intermediate and 3 from Middle = 9 pieces for Visual Art, whereas both Jr High and High School include 1 grade division each, so they will each provide a total of 3 pieces for Visual Art)
Judging of FCPTA submissions: Nov 20th - Dec 1st ( location and specific dates to be confirmed)
Judges needed: please help us recruit impartial, qualified judges. Please ask any of your judges if they would be willing to judge at the council level.
Fremont Council PTA Reflections Award Ceremony: Dec 9th at  American High School, (mandatory for all unit chairs or a representative of the unit to attend and help).

Templates and more details will be provided later.

Thanks,

FCPTA Reflections